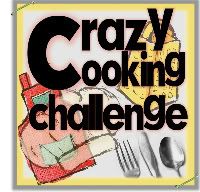 Who doesn't like homemade fudge? This is the season to be sharing, right?! That's precisely why I loved the idea to search for the ultimate fudge recipe in this month's Crazy Cooking Challenge. The answer lies in your hands – whose fudge will prevail as THE best? Pick mine! Pick mine!
There are tons of fudge recipes to choose from so this was no easy task. I actually made two different recipes, only posting my favorite this time around.
These are the recipes I did NOT choose but plan to make in the future:
Orange Creamsicle Fudge – I made this and will blog about it soon!
Nutella and Sea Salt Caramel Chocolate Fudge (sans nutella because of my allergy)
Key Lime Fudge (when the weather gets warmer again!)
Dreamy Creamy Gingerbread Fudge – Two Ways
Rocky Road Fudge – reminds me of Mama's Rocky Road!
Cookies and Cream Fudge – only 3 ingredients!
Sommer, the brains behind A Spicy Perspective, is an extremely talented cook. Her blog is full of beautiful pictures and great stories about her family and her trials in the kitchen. I've already bookmarked at least seven of her recipes to try and recreate! This fudge was definitely a winner… but I am biased because I love anything with mint and chocolate. This little dessert/snack was creamy and refreshing (can I say that?). Having the chopped Andes mints in there was a nice contrast to the velvety chocolate. It is rather sweet, which is never a bad thing, and it is hard to make yourself stop at just one!
Addictive Mint Fudge (adapted from A Spicy Perspective)
Ingredients:
12 oz semisweet chocolate chips
1 tablespoon butter
1/8 teaspoon salt
1 (14-ounce) can sweetened condensed milk
1 teaspoon mint extract
1 teaspoon vanilla extract
10 oz chopped Andes mints
Directions:
Line a 8×8 inch baking dish with foil or parchment paper and lightly spray with nonstick cooking spray.
Place a medium saucepan over medium heat with 2 cups of water. Place a heat-proof bowl over the top and make sure it doesn't touch the water. Put the chocolate chips, butter and salt in the bowl and heat. As it starts to melt, add condensed milk and both extracts. Stir with a rubber spatula until chocolate is fully melted and starts to thicken, about 3-4 minutes. Take the bowl off the heat and stir in chopped Andes mints.
Pour the mixture into the dish. Gently tap the dish on the counter to allow air bubbles to rise to the top and smooth the surface with your rubber spatula.
Refrigerate for at least 2 hours, maybe longer, to set. To cut, dip a sharp knife in hot tap water, wipe and cut quickly. Dip and wipe the knife between cuts. Cut into 1 inch squares. Makes a lot of fudge! Tutti Mangia!
Please be sure to VOTE for your favorite recipe below!
I'm #68! Please Press 'Like' and vote mine the Ultimate!